projects: changing room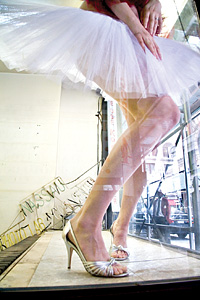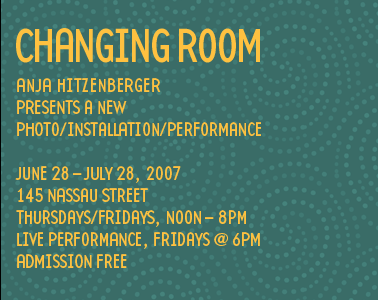 The Project
Anja Hitzenberger's ongoing photography photography project — "The Body and Space" — explores the relationship of the human body to outdoor architectural spaces. Thanks to a Swing Space grant from the Lower Manhattan Cultural Council, Anja was able to expand on "The Body and Space" by condensing it in "Changing Room." In this version of "Changing Room," Hitzenberger explored the possibilities found in an abandoned storefront (a former photo lab) at 145 Nassau Street in Manhattan. Each week she photographed performers and dancers of different body shapes and movement backgrounds. Each week also brought a new installation by
architect/designer Illya Azaroff
, as well as live performances in the space.
"Changing Room" ran from Thursday, June 28 through Saturday, July 28, 2007. Gallery hours were Thursdays and Fridays, noon to 8pm. Live performances were on Fridays at 6pm and featured her collaborators moving through the changing installations. Performers included
Deborah Lohse, Kathy Westwater, Todd Williams, Thom Fogarty, Jimena Paz and Pascale Wettstein, Jennifer Monson, Kristi Spessard, Edward Ratliff, Nicole Vlado + Mariangela Lopez and Pedro Osorio, Alexandra Beller, Judith Sánchez Ruíz, Beth Schenck
and others.
Photo Galleries from "Changing Room"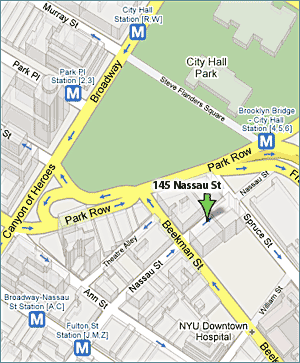 Location
Storefront at 145 Nassau Street, between Spruce and Beekman
By subway: 4,5,6 to Brooklyn Bridge-City Hall; R,W to City Hall; A,C to Broadway-Nassau; 2,3 to Park Place; J,M,Z to Fulton Street
Production Credits
Concept and Photography:
Anja Hitzenberger
Installation Design and Construction:
Illya Azaroff
Production Intern:
Sherri McLeod
Produced By:
strudelmedia
Special Thanks:
Special thanks go to the Lower Manhattan Cultural Council and Jeanne Gerrity for all of their assistance!
Funding Credits
"Changing Room" was made possible by Swing Space, a program of Lower Manhattan Cultural Council, generously supported by the September 11th Fund. Project space is donated by Time Equities.